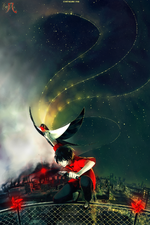 Knite
is a popular eight to ten chapter flashcomic by
Wenqing Yan
which is not yet completed.
It is focused on the plight of China's starless skies, and how a group of children, Sen especially, work to bring some semblance of those tiny pinpricks of light back.
The title for Knite is a combination of the English words "Knight" and "Kite", and the Simplified Chinese character for wind "风
Knite is about a boy named Sen who every night goes out and flies kites with lights on them making the illusion that they are stars. The story takes place in China so with the smog and polution nobody can see the the stars.
That is why Sen makes these kites, to fill people with hope that they one day may see real stars again. In the story Sen meets the son of a corrupt politican Kai.
Sen, being a very introverted person is very hesitant about being friends with Kai but the two become close friends. Throughout the story you learn more about Sen's sad story and about who Kai really is. Read the first chapter here
As written in Knite Wiki:
"The Knite comic originated as a flash comic first released on the art website deviantART on January 20, 2010. Eventually, the comic was picked up by 4th Dimension Entertainment, which announced the deal on Feburary 25, 2011 on thier deviantART blog. Knite would still be published via internet, but 4DE would release the comic in bound book format as well as on devices like the Amazon Kindle 2, Apple iPad, and Barnes & Noble Nook. A preliminary release date for the first book has been estimated "early-mid 2013" by Yan, via her profile on the art social network deviantART."
Languages
Edit
By now, the Knite webcomic was translated into 26 different languages, such as Spanish, German and Russian; all translations are available on the deviantART page Knites.